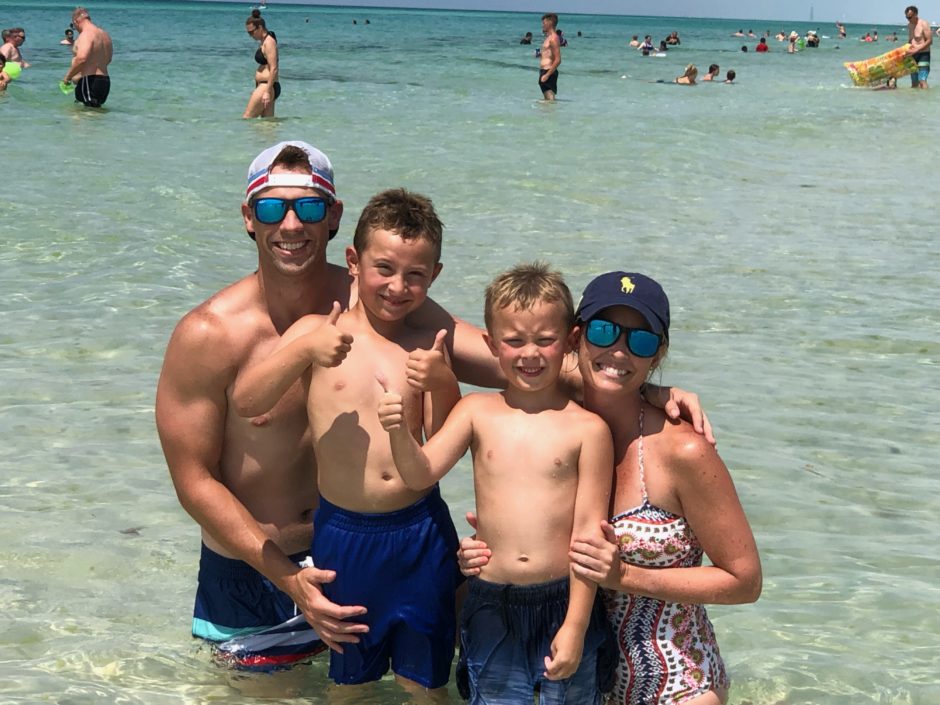 Congratulations to Mr. Anthony "Flip" Filipiak – our October Athlete of the Month!  Anthony is a husband, father, veteran, athlete, and proud #nooner.  If you have ever had the pleasure of meeting Anthony, you probably know he is an intense guy.  Every time he steps into the gym he brings a passion that is unmatched.  Despite being one of the more talented athletes in the gym, he is never too busy or proud to lend a helping hand to those around him.  He is always there to cheer on the last athletes finishing a workout.  This personifies a team player, which Anthony definitely is.  Over the years, Anthony has competed in several competitions and has stood on a few podiums, but it's what he does on a day-to-day basis that makes him deserving of AOTM status.  His commitment to the C3 Community around him – whether it be offering words of encouragement to other athletes in the gym, or rousing everyone up for a game of flip cup at the annual Holiday Party – that's what makes Anthony such a valued member of our C3 family!
---
In general, What is your background?
I was born and raised in Springfield, IL where I grew up playing nearly every sport offered but really developed a passion for ice hockey. After high school, I realized I was not quite good enough to pursue it at the next level. So, I decided to join the Illinois Army National Guard and attended Southern Illinois University at Carbondale where I received a bachelor's in Administration of Justice and Political Science. While in college, I met my beautiful/rockstar wife, Erica. After several years of trying to convince her I was the one, we married in 2009. We now live near Washington Park and have two boys (Landon, 8 & Levi, 7). Our main passion is to travel (sometimes with the boys), attend concerts, and enjoy life to the fullest with friends and family.             
Age, Occupation?
I'm 37 (going on 22) and yeah….I still don't know what I want to be when I grow up, but it definitely involves lots of golfing and a tiki bar on the beach with all my friends and there's a live band playing our favorite songs and we're in the front row just hammered!  ….But, until I figure out how to do that and get paid, I currently work for the US General Services Administration as a Building Management Specialist. Think Property Management for Federal buildings.  
How did you get to know about CrossFit and why did you start?
Wayyyy back in March of 2013, my good buddy Matt Powers (C3 OG) finally convinced me to try CrossFit. Like many others at the time, I did P90X, Insanity, and even managed to sneak in a full marathon. All that was great but I was looking for more. After my first class/workout (Flip -1, Dar -0), I was hooked and never looked back.           
How has CrossFit changed your life, lifestyle, level of fitness?
Immensely! I've never been faster, bigger, and stronger than after joining CrossFit. I've always had an active lifestyle by lifting weights and playing hockey, but we all know there's being in "CrossFit shape" and then everything else. "Stronger than yesterday" may be a slogan used in CrossFit but it's never been more true in my experience.    
Name one goal and/or personal record you would like to accomplish through CrossFit.
Since my first workout, I've had the goal of hitting a 315# Clean and Jerk and a 225# Snatch. Almost there! Also, I eventually want to get my CrossFit L1 certification and teach classes. 
Favorite CrossFit moment so far?
Over the past seven years, I've had some incredible moments: Stepping on the podium after a long day of a competition, hitting a PR, and going absolutely all out for the C3 Open workouts are high up on my list. However, I find my favorite moment is walking into the gym everyday knowing I get to hang out with friends while getting an amazing workout. There's nothing that bonds a group of people together more than shared suffering.     
What is your least favorite WOD to date?
Open Workouts: 14.3, (Deadlifts & Box jumps); 15.5, (27-21-15-9, Row (Cals) & Thrusters); 16.5, (21-18-15-12-9-6-3, Thrusters & Burpees); 17.1, (DB Snatches & Box Jump Overs). Every workout we do is humbling but these WODs just absolutely destroyed me.   
What do you like most about Capital City CrossFit?
Its cliché, but the thing I like the most about CrossFit is the people that make up our great community.  The camaraderie in CrossFit is unlike anything else I've experienced (aside from the military). Walking into this group is very intimidating and overwhelming, but it speaks to the character of our community when the last person to finish the workout is the one who receives the loudest cheers and most deserving congratulations. Stepping out of your comfort zone and taking on challenges where you know failure is almost certain is what makes CrossFit special. That and there's absolutely nothing better than having a cold one after a hard workout. Over the years, I've met some of the strongest individuals (inside and out). Moms, Dads, teenagers, kids, and grandparents on a daily basis exceed expectations and continue to impress. This transcends outside of the gym as well. Whether it's celebrating the "Open" or the end of a competition at Freebirds by playing Flip Cup, grieving a loved one's loss, the C3 Holiday Party, or celebrating life's moments, I'm happy to call the athletes at C3 some of my best friends.                      
Favorite exercise?
Anything with a heavy barbell. I really like the days when we do the benchmark workouts. Pushing yourself in the red and seeing how you've progressed is always a highlight.    
Least favorite exercise?
Anything that involves that damn box and pretty much all the gymnastics movements. Running for more than 400 meters is also not a fun time. I also don't really like lunges or back squats. If it wasn't for my #Noonclass, Freebrids, C3 Open, and Fireball Friday, etc., I would've joined a bowling league a long time ago.
---