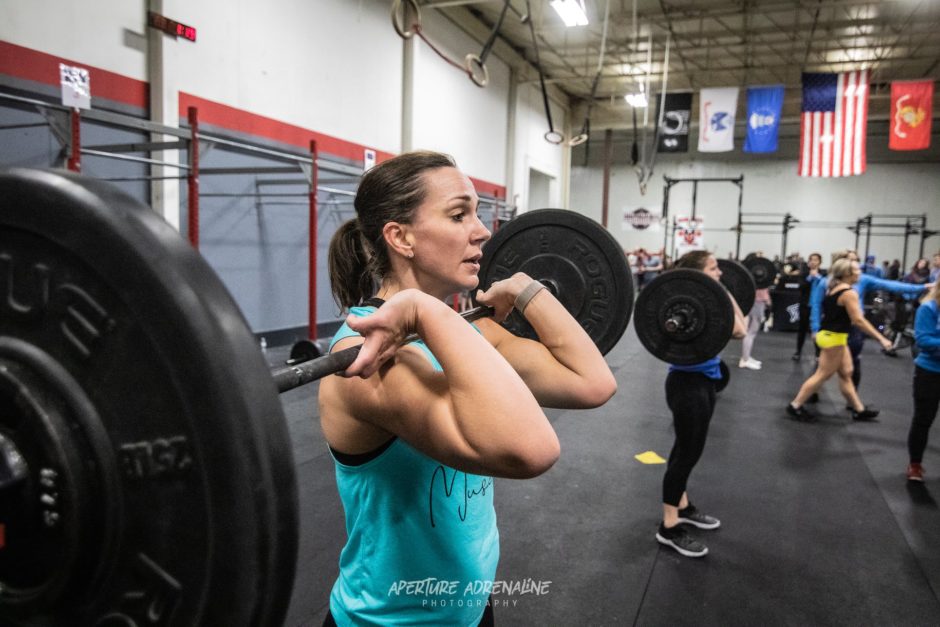 Congratulations to Abby Griffith, our November 2020 Athlete of the Month!  Abby, a long time CrossFitter, will be celebrating her two year anniversary at C3 at the end of this month.  Since joining Capital City CrossFit, Abby has been nothing short of amazing.  A staple of the 5am class, Abby is as consistent as they come.  Despite being up before the sun, she always brings the energy and never backs down from a challenge.  Abby has seen steady improvements since joining Capital City CrossFit.  She continues to get stronger as she has seen some nice barbell PRs as of recently, and her gymnastics also continue to improve as well.  Abby is not afraid to put her fitness to the test.  She has competed in several events as of late, including the DTown Throwdown, The Row 4 Dough Fundraiser, Fight for Air Climb, and the 2020 IceBreather Classic where she earned a third place finish with her partner Lindsey D!  We are proud to have her as a member of our C3 Community – keep up the strong work, Abby!
---
In general, what is your background?
I grew up in a small rural town about 60 miles west of Springfield (Pittsfield—once a Saukee always a Saukee!), the youngest of three kids. I attended Bradley University in Peoria for undergrad and then Western Illinois University for a Masters degree. From there, I accepted a position in Springfield, got married, and had a couple of kids. If you see my rugrats running around the gym, feel free to parent them and/or challenge them! I promise they are harmless.
Age, Occupation?
I'm a thirty-something….not quite to 40, but too far from my 20s. I'm the Investment Accounting Manager for TRS—basically I manage the back office for a pension plan investment portfolio. 
How did you get to know about CrossFit and why did you start?
I was working downtown, and a guy that sat two cubicles from me went to the gym every day on his lunch hour at a crossfit gym inside of the old Gold's. I was running on the treadmill every day myself, and would watch through the glass. It was always so great to see these men and women doing things I never DREAMED of doing—pullups, throwing around heavy weight and generally being awesome. I can remember thinking to myself—this is something I don't think I could ever do.
Fast forward about 18 months, and I was SUPER bored with running. Don't get me wrong, I had medals, and super fast race times (for me), and I'd done a lot of cool obstacle course races. But I still was getting stale and bored. No one wants to spend 90 minutes a day running—it's not that fun, trust me. One day I was feeling brave, and asked my co-worker about his gym—he introduced me to his wife, April, who also went to the same gym, and worked in our building. She asked me to come to a "Bring A Friend Friday" class. I went and was immediately hooked. That was almost 7 years ago. And April is still one of my best friends to this day. 
How has CrossFit changed your life, lifestyle, level of fitness?
Oh my gosh, where do I start? Before crossfit, I was "fit", but I will never forget that first time I worked with a crossfit coach. I couldn't complete an air squat! Sure I could run, but I wasn't functional. I had no idea what I could actually do. I started crossfit about a year before getting pregnant with our second child, and I worked out until one week before being induced, and I was back in the gym (limitedly) I think 11 days after having Maggie . Comparatively, I ran exclusively when expecting Owen until 7 months and had to stop, and didn't start again for a solid 2 months after he was born. Mentally and physically, I rebounded so much better with Crossfit in my life. It keeps me happy, healthy, and sane on a daily basis.
Name one goal and/or personal record you would like to accomplish through CrossFit.
Crossfit is designed to make you uncomfortable, and I'm determined to conquer what makes me squirm. Right now, that's handstand push ups. I cannot stand to be upside down. Every rep I have to give myself a pep talk and hope for the best!
Favorite CrossFit moment so far?
Honestly, competing is my favorite—and when Lindsey and I podiumed at IceBreather last year I felt like everything was clicking into place! Also, for the record, no matter what she says, Lindsay can never retire from competing.
What is your least favorite WOD to date?
Open WOD 17.4: 55 DL, 55 WB, 55 Cals on the rower, and 55 HSPU. This is a wheelhouse WOD for me except HSPU—I can remember having about 3 minutes to just stare at the wall in between attempts the first time I did the workout, and I cried before those 3 minutes were up. It's on my list to redo, again, for sure! 
What do you like most about Capital City CrossFit?
The Crossfit community is like nothing I've ever felt outside of family. These people that I've met over the years have become my heart, my best friends, my support system and my accountability. C3 welcomed me with open arms over two years ago, and 5 am was my new home. These people challenge me every day, and they make my weekends pretty fun too. Surround yourself with good people, and good things happen.
Favorite exercise?
Burpees. Don't hate me, but outside of anything cardio—let me burpee.
Least favorite exercise?
ANYTHING gymnastic-y. Just, no.
---