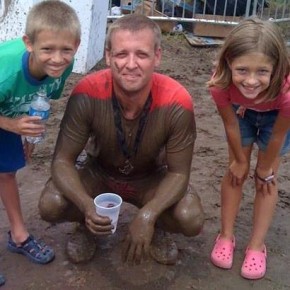 CrossFit Level 1 Trainer
Jamie was one of the first members of Capital City CrossFit (C3) joining after the doors opened all the way back in March of 2010. Since that time, he has been a consistent member of C3 completing workouts, competing as an individual and team member along with his team "C3 Grinders" and was named the first "Athlete of the Month" in July 2010. Jamie completed his Level 1 Trainer CrossFit Certification in June of 2014 after doing CrossFit for over four years.
Jamie grew up in Rushville, IL and attended Western Illinois University graduating in 1997. He has a wife Sarah and 13 year old twins Elise (also a C3 member) and Carter. He completed his Master's degree in Educational Leadership at the University of Illinois at Springfield in 2009. Jamie has been a high school English teacher for 17 years (15 at Riverton High School) coaching a variety of sports during his tenure including: soccer, basketball (high school and junior high), baseball and volleyball. In addition to teaching and coaching, Jamie is a professional freelance writer working for The Box Magazine (online and print), CrossFit Games Media (as a writer and live video media), Opedix and JUNK Brands..
Favorite Quotes: "You're not a wave, you're part of the ocean." – Morrie Schwartz from Tuesdays With Morrie and "I don't like to stand around and look at the bar … To me, it's going to hurt just as bad in 15 seconds as it does now, so why not keep going?" – Lance Schaefer – CrossFit Enhance, 5th Fittest Man on Earth – 60+ Master's Division.