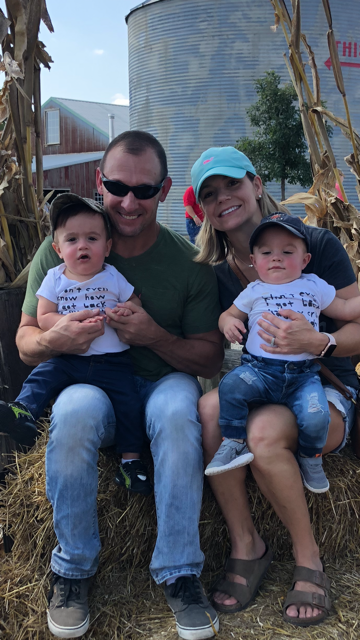 Congratulations to Darci Vespa, our March Athlete of the Month! Darci is approaching her 2 year anniversary with Capital City CrossFit. One thing that really stands out about Darci is that she started CrossFit when she was 8 months pregnant with twins! This says a lot about Darci's commitment to fitness. As an experienced athletes, she is rarely afraid of a challenge and always willing to attempt a new skill.
Darci, now a mother of twin boys Owen and Wyatt, is one of our more consistent members, even with a hectic schedule. Her hard work has been paying off recently as she is not only getting stronger week by week, she is also mastering many more challenging gymnastics movements such as handstand push-up, toes-2-bar, and chest-to-bar pull ups. Darci has also played a large role in promoting philanthropy in our community by organizing the Angel Tree at C3 at Christmas.
Darci is a fun, energetic, and valued member of our C3 Community. Congratulations for this well deserved honor!
Please enjoy Darci's profile below.
In general, what is your background?
I am just a small town girl from Tovey that graduated from Kincaid High School. I earned my bachelors degree in Early Childhood Education from ISU and my master's degree as a Reading Specialist from Western University. I worked part time at the "Office Sports Bar" for 15 years, and that is where I met the one and ONLY Chris Vespa! We were married in 2015 on an amazing destination wedding in Mexico with so many of our close friends and family there with us. We had our wild and crazy twin boys, Owen and Wyatt in 2017, and the rest is history. They own us and we love every moment of this crazy life!
Age, Occupation?
Well, I just had my 39th birthday! It was totally weird typing that, but I have to say I don't feel 39 and definitely don't act it! I am currently a literacy coach for District 186 and work at Laketown Elementary School with my VERY bestest friend Shelley Brown.
How did you get to know about CrossFit and why did you start?
Shelley Brown and Katie deMarco started going to CrossFit way back when and I was interested, but was way too scared to get started! I know myself and knew it could be dangerous because of how competitive I can get and obsessive I can be! They would always say, "Darci, you should so join! You would LOVE it!" Well, in June of 2017 when I was pregnant with the boys, I knew I would need to find a different workout routine that would be quick and motivating because my life was soon going to change in two short months. So, I did the on-ramp class in June when I was 32 weeks pregnant and ever since I have been a regular!
How has CrossFit changed your life, lifestyle, level of fitness?
After the boys were born, CrossFit has worked perfectly in my schedule. I had always lifted weights, did (and taught) spin classes, and ran, but I knew with twins I wouldn't have time to wander around the gym and make my workouts up on a daily basis. Coming to C3 and having the workouts written for me has been pretty amazing. I also like that I have stepped out of my comfort zone and have pushed myself to try things I normally wouldn't try in a gym all by myself. Setting fitness goals is something else I like about CrossFit.
Name one goal and/or personal record you would like to accomplish through CrossFit.
I would absolutely love to get dubs and butterfly pull-ups! Also, to learn the names of the CrossFit barbell movements. I have learned many of them, but still struggle recalling the exact name of a specific movement.
Favorite CrossFit moment so far?
Bringing the boys with me when they were in their car seats and having them watch me work out! I may not be able to do that now, but it was fun while it lasted!
What is your least favorite WOD to date?
Any workout with rowing!
What do you like most about Capital City CrossFit?
I love that there is a 5:00am class and that I get to see my very best friends first thing in the morning! Everyone is also so motivating and helpful.
Favorite exercise?
Handstand push-ups!
Least favorite exercise?
Overhead squats!