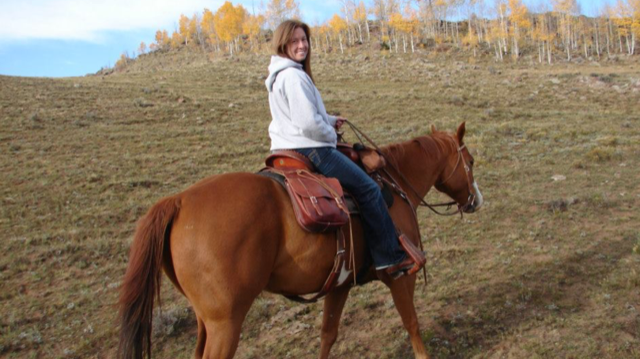 Congratulations to Kristin Taft, our April Athlete of the Month! Kristin has been at C3 for over two years now, and throughout that time she has been an extremely consistent, extremely coachable, hard working member of our community. Kristin stands out because she is always looking to improve, and willing to put in the work to see these improvements. In addition to being at the gym six days a week, Kristin also works outside of class time to improve her skills and fitness. She participates in RowingWOD every week, while also putting in the extra work to improve her Olympic lifts and gymnastics skills. The hard work is paying off, as Kristin has been Rx'ing more and more workouts recently. She is not always the fastest athlete but she loves to push herself, which is very admirable, and this has not gone unnoticed.
Congratulations to "K. Taft" – our April athlete of the month!
1. In general, what is your background?
I grew up in Dawson and graduated from Tri-City High School and UIS. I met my husband Cory towards the end of my senior year in high school, and this year marks our 20th year together. We live about 25 minutes east of Springfield with our horses, dogs, and cats… and whatever stray comes along here and there because I can't help myself, I feed them all. We work hard during the week so we can play hard on the weekends. Most Saturdays after the 8am WOD, I'm usually racing home so we can head to the river if it's up. Then there's the occasional working weekend during the summer months, otherwise known as hay-baling season to the rest of us. I'm pretty happy with work or play, so long as it's outdoors and with my people… or my animals. It balances out the nine to fiver behind a computer that pays my bills, lol.
2. Age, Occupation?
I'm 38. I work as an adjudicator for Social Security.
3. How did you get to know about CrossFit and why did you start?
My BFF Daniel (you folks know him as DT) and I started working together in 2004. He talked my ear off about this thing called CrossFit until I finally agreed to try it, so long as he did all the thinking. I did this at the gym solo for a while but I wasn't super comfortable with the barbell movements. In January 2017, he and I took Jordan's Olympic lifting class at C3 and that's when it got real. I walked through that meat locker door, intimidated as all get out, into a gym atmosphere like I've never experienced. To my surprise, I saw people of all sizes and ages doing the same WOD to varying degrees, at the same time, and then dying on the floor together at the end. It was great! No thinking, just show up, do what the coach says as fast as you can, and then you're done. We started On-Ramp that March and it's been one of the best decisions I've ever made.
4. How has CrossFit changed your life, lifestyle, level of fitness?
I'm definitely more confident. I'm thinking about my food choices for the first time in my life, which is huge for me. And while that is still a work in progress, the strength I've gained since starting at C3 and the PRs I've achieved make me feel pretty good about myself even if I'm not quite where I want to be in size. I even noticed a difference last summer baling hay and loading the wagon. That was kinda neat.
5. Name one goal and/or personal record you would like to accomplish through CrossFit.
It's hard to pick just one. Recently I FINALLY got unassisted pull-ups, and I was so happy to ditch those bands! Chest-to-bar pull-ups are next I guess, but what I'd really like to be able to do is a muscle-up. Stringing pull-ups and T2B would be helpful too.
6. Favorite CrossFit moment so far?
2018 Open, hands down. It was my first, and just unbelievable. The energy was wild. I used the 35 lb. DBs in a WOD for the first time and I did the heaviest OHS I've ever done… for 20 reps! The BMU showdown at the nooner between Flip and DT was pretty good too, lol.
I have to mention a seriously close second is Murph. The Open is fun, but Murph really means something. I'm terrible at this WOD and kind of dread it every year now, but I also need it. I'm not a veteran so I don't quite understand the sacrifice, but I want to understand it. Complacency, in my opinion, is a dangerous state of mind. Murph has reminded me of the sacrifices made by those who came before me and those who are enlisted now. Because no matter how bad it hurts while I'm doing the Murph, I know it doesn't even compare to his sacrifice on that mountain. So thank you veterans. Thank you Lt. Murphy. CrossFit brought me to Murph, and I'm grateful.
7. What is your least favorite WOD to date?
Anything with running. I'm so bad at it. And since it's fresh, I'll just throw out this past Saturday's WOD in particular. Running with a WB. Awful.
8. What do you like most about Capital City CrossFit?
Hmmmm. I guess the air conditioning in the summertime. It's so refreshing….. Ha! I'm kidding of course, lol. Aside from the obvious fact that there is no AC, there really is only one answer to this question: the people. Y'all are just awesome and no matter how bad my day might be going, I NEVER consider skipping the gym because I know as soon as I walk into C3 I'll instantly feel better. I've been to all but the 5am class and they've all been pretty great. If I could get my butt up for the 5am, I have no doubt it's great too. The nooner is where I'm at most days though. It's been like a whole different adventure inside the C3 experience!
9. Favorite exercise?
Power cleans!
10. Least favorite exercise?
Running and thrusters.