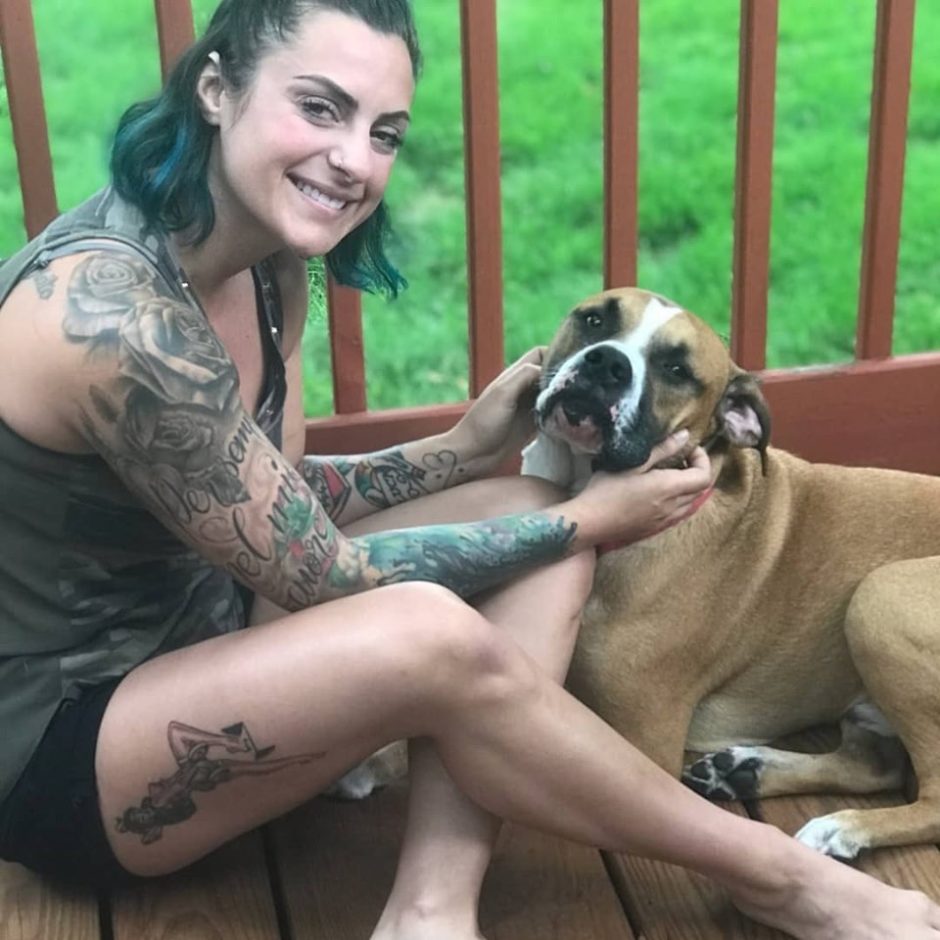 Congratulations to Melissa DeGiorgis on earning the prestigious honor of Athlete of the Month for July 2019! Melissa started her CrossFit journey in 2016, and since starting she has made unbelievable strides. What stands out most about Melissa is her determination and her passion. If she has a goal in mind, she will do whatever it takes to make this goal a reality.
It is hard to ignore the progress Melissa has made, particularly in the past nine or so months. Her strength and endurance continue to improve, and she is also acquiring many of the more advanced gymnastics skills, such as C2B pull-ups, handstand push-ups, and bar muscle-ups. She participated in her first competition at the 2019 IceBreather Classic (go Home Team!). She also completed this years Murph in a 14 pound vest. How was she able to do this? Because she put in the effort, wearing the vest during every "Murph training" workout. Although she may have been unsure if she should/could do it at first, she grabbed the bull by the horns and made it happen. This is Mel's style, and it is so refreshing to see the hard work pay off!
Congratulations to Melissa DeGiorgis, our July Athlete of the Month. Keep working hard Mel and the sky is the limit!
---
1. In general, what is your background?
I was born and raised in Roselle, Illinois and I graduated from Lake Park High School. I moved to Springfield, Illinois in September of 2015. I have two crazy furry babies, Red and Milo who love to terrorize my house, but are too cute for me to stay mad at! I am currently a full-time student at University of Illinois at Springfield finishing my Bachelor in Social Work. It is an amazing feeling to be back in school studying and working towards a career that I feel so passionate about. Oh, I can't forget to mention that I recently brought my boyfriend to a 7am Saturday partner WOD and needless to say, he fell in love with it and became a member at C3 the following week. It has been so awesome to see the spark and excitement in his eyes and it takes me back to my first week of CrossFit and how hooked and obsessed I was with this awesome lifestyle.
2.Age, Occupation?
I just turned 29 years old this past June and I am going to enjoy my last year in my twenties! I am a server at Obed and Isaacs Microbrewery & Eatery and a full-time student at University of Illinois at Springfield.
3. How did you get to know about CrossFit and why did you start?
Prior to working out at Capital City CrossFit, I had little background in a fitness or athletic environment. I really wanted to go outside of my comfort zone and incorporate some style of fitness into my life. I heard about C3 through a former C3 coach, Jordan Barney and it sounded like a lot of fun. I signed up in March of 2016 and I instantly fell in love with it! I barely knew how to do an air squat when starting at C3. Also, box jumps were not my friend.
4. How has CrossFit changed your life, lifestyle, level of fitness?
CrossFit has changed my life, lifestyle and level of fitness in so many ways. Since starting CrossFit in 2016, I have dropped over 20 lbs. and I have gained muscle. I am able to do things I never thought would be possible and I feel a lot stronger physically and mentally. I live a healthy lifestyle and I owe all of that to CrossFit.
5. Name one goal and/or personal record you would like to accomplish through CrossFit.
My goal is to work on getting a ring muscle up and continue to get stronger and more efficient with all of the lifts. Also, I want to work towards competing at an RX level for a competition within the next year or so!
6. Favorite CrossFit moment so far?
Wow, I have had so many amazing CrossFit moments, but I'd have to say that this past Memorial Day was a moment that I will always cherish and keep close to my heart. It was an honor to be asked by Brian to sing the National Anthem at C3 that morning. I sang then went right out and completed Murph with a 14# vest and then came right back in and sang again. Also, competing at this year's IceBreather Classic with my awesome partner Ro was definitely one for the books! We both went into it knowing we were stepping outside of our comfort zones, but it was an amazing day and we received so much support from our C3 family.
7. What is your least favorite WOD to date?
My least favorite WOD to date would have to be 19.1. I HATE WALLBALLS AND ROWING and the two together is just an awful combination!
8. What do you like most about Capital City CrossFit?
Capital City CrossFit is my happy place. I love the feeling I get when I walk into the gym and all of my friends are there. No matter what is going on in all of our lives, we get to share that one hour out of our busy lives to push and support each other. I have made lifelong friends at C3 and this community really shows up for their members during the good and bad times. Most importantly, the programming is intense at this gym and it definitely will get you fit if you put the work in.
9. Favorite exercise?
My favorite exercise would be anything with double unders, running and chest to bars.
10. Least favorite exercise?
I really do not like doing wall balls. I can deal with everything else for the most part!