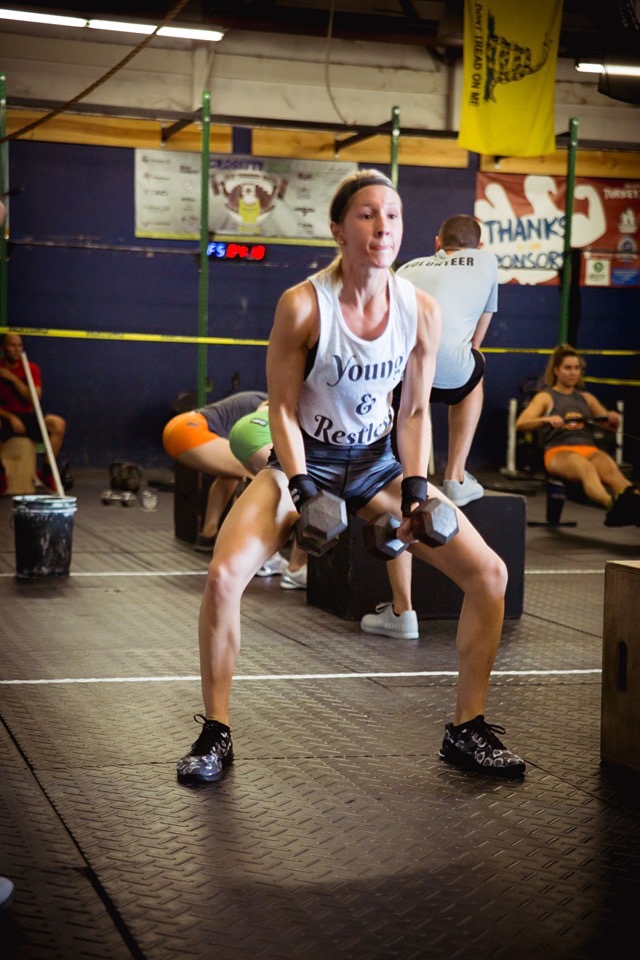 Shout-out to our first Athlete of the Month of 2020 – Karley Welsh! Karley has been a member at C3 for a year and a half. Since starting, she has been nothing but a joy to work with. She consistently brings a positive, up-beat attitude to every class she attends, and is always willing to work her butt off to accomplish her goals.
There have been several shining moments in Karley's young CrossFit journey, but there are two that really stand out – her performance on 19.4 in the 2019 CrossFit Open, and kicking ass in her very first CrossFit competition. On workout 19.4, we saw Karley not only complete the snatches at the prescribed weight but we also saw her score her first bar muscle-ups (on her first attempts)! This was a very proud moment for the C3 coaches and the entire C3 community. In August, Karley competed in the always challenging CrossFit XLT Summer Knights competition. This was Karley's very first competition and to no one's surprise she competed at a very high level. One month later Karley teamed up with former AOTM Darci Vespa to take first place in the local Festivus Games competition! When not at C3, Karley can be found at "Jim's Gym" with now Fiance and long time C3 member Jimmy Winters, where they both continue to work on their strength and skills.
Congratulations to Karley Welsh, our January 2020 Athlete of the Month for the well deserved honor! Keep up the great work.
Please enjoy Karley's AOTM Profile below.
---
1. In general, what is your background?   
I was born and raised in Divernon, IL. I attended preschool, grade school, and some of junior high at Divernon before we consolidated with Auburn School district, which is where I graduated from high school. After high school, I attended a small Christian University, Greenville University, as I was getting recruited to do pole vault for their track and field team. I ended up focusing strictly on my education and graduated a year early with a Bachelor's Degree in Health Psychology. From there, I was accepted into a 15 month accelerated nursing program at Illinois State University, where I graduated with a Bachelor's Degree in Nursing. During my time in nursing school, I was doing clinical rotations at St. John's Hospital, which is where I "met" Jimmy. I actually looked him up on social media after asking a nurse what his name was and messaged him first. The rest is history! We are currently planning our wedding after getting engaged in Jamaica this past November. Lastly and most importantly, my background would not be mine if I did not mention my amazing, supportive, loving family whom made me who I am today. My childhood, teen years, and adulthood thus far has been the way it has because of my upbringing and I am so thankful to have such a great support system. 

2.Age, Occupation?   
 I am currently 24 years old, but I sometimes sound like I am 80. Nothing wrong with drinking coffee in your PJ's and catching "The Price is Right" at 10am. 
I am a Registered Nurse in The Regional Cancer Center at Memorial Medical Center. As a radiation therapy nurse, we help treat all and any patients that may need radiation to help cure or help "heal" their cancer. We look after the patients before, during, and after their treatments and make sure that they have someone to lean on during that difficult time. 

3. How did you get to know about CrossFit and why did you start?   
 Back in the day (like last year), I would come and watch Jimmy work out at C3, but I would not dare step on that floor because I thought that I could never do any of those things! Long story short, Jimmy worked with me for months in "Jim's Gym" teaching me all the movements, the in's and out's, and everything in between. Eventually, I worked up the courage to pop in on a few Saturday classes and join officially. Now, I have never looked back! I grew to love CrossFit and the challenge it brings into my life. I started CrossFit not only to be physically active, but to join a community of people who care about and encourage one another's fitness.

4. How has CrossFit changed your life, lifestyle, level of fitness?   
CrossFit has changed my life in so many ways. First, my level of fitness has grown tremendously throughout the months. My favorite memory to think back on was when Jimmy, my sister and I were working out at the house and my sister was kicking my butt. I could not breath, I could not keep up, it was terrible. Little did I know, she was pregnant at the time and was still killing it and I was croaking. Looking back at that day and comparing myself to Karley then, it shows me just how much my fitness level has changed. Seeing not only the physical body changes, but the mental changes that my body has endured after starting CrossFit are so encouraging and I am so thankful that I started the CrossFit journey when I did. CrossFit has made me strong, healthy, and more confident. 
5. Name one goal and/or personal record you would like to accomplish through CrossFit.   
 My main goal currently is to work on doing butterfly pull ups/chest to bar. Another goal that I have is to build up endurance to string more double unders together.
6. Favorite CrossFit moment so far?    
My favorite CrossFit moment has to be when I was doing my first open, 19.4. Once I finished the snatches and burpees, I had to attempt to get bar muscle up's. Walking over to the bar, I was so nervous. However, all around me were people who were cheering me on, yelling at me, encouraging me. When I got my muscle up, there was SO much excitement. Not only from me, but from everyone around me. Favorite moment to date.

7. What is your least favorite WOD to date?   
I cannot think of a specific WOD, but I know I do not like a WOD if it has thrusters in it.

8. What do you like most about Capital City CrossFit?   
What I like most about C3 is the community that it fosters. Whether you need a hug, a high five, or just a smile, there is ALWAYS someone at C3 who is there for you. The community at C3 is amazing and I love how everyone supports everyone in literally anything you do. I also like that Brian adds up my scores for me and never gets mad that I don't know how to calculate my score/reps/time!

9. Favorite exercise?
100% Power Cleans

10. Least favorite exercise?    
100% Thrusters