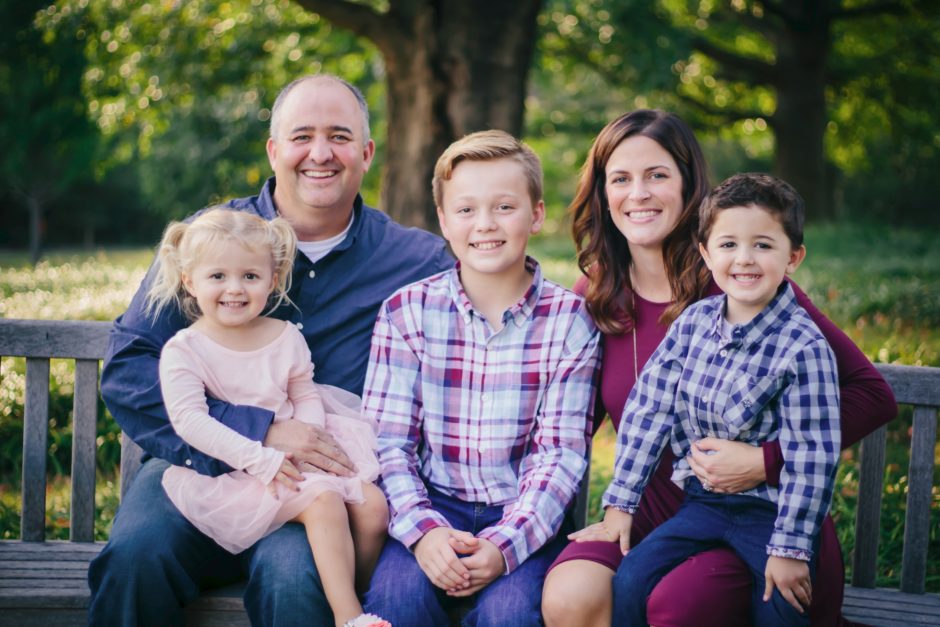 Congratulations to our December 2016 Athlete of the Month – Jennie Wagoner!  Jennie is a unique athlete.  Many people do not know this, but Jennie is one of the "Original Three" at Capital City CrossFit.  In fact she started before there was a C3 more than seven years ago.  Because of this, Jennie holds a special place in my heart as a trainer.  She got started when I did.  After taking quite a bit of time off to start the beautiful family you see above, Jennie came back a year and a half ago.  Since then we have seen vast improvements in Jennie's performance and body composition.  One thing that stands out with Jennie is that she is a go-getter.  She sets goals, and she takes the steps to reach these goals, and she is seeing results!  Jennie also made C3 proud by recently competed in her first CrossFit competition.  With her positive attitude and work ethic, the sky is the limit for Jennie. Congratulations on being named Athlete of the Month Jennie!
1. In general, what is your background?
I'm originally from Witt, IL. Graduated from Hillsboro. I attended Millikin University and have my bachelor's degree in Nursing. I moved to Springfield and initially started as a labor and delivery RN at St. John's Hospital. I'm currently a Springfield Clinic office RN for Dr. Dustin Stehling, OBGYN, and have been since 2012. I think it's safe to say I know the female anatomy very well, so just ask if you have any questions.  LOL
I live in Sherman with my husband, Josh, and three children, Jackson, 12, Henry, 4, and Lottie, 2.
2.Age, Occupation?
32 years old, Registered Nurse
3. How did you get to know about CrossFit and why did you start?
A friend and coworker, Hannah Cunningham Reed, introduced me to Brian in 2009. We initially started WOD's in Clay Schouffler's garage and then Brian started taking us to Athens High School. I ended my first CrossFit career in 2011 at the old gym by Monte's sub place.
I've always been an active person my whole life and this type of workout atmosphere is what I have always enjoyed.
4. How has CrossFit changed your life, lifestyle, level of fitness?
I started C3 again in April 2015 and it's hard to describe how I was feeling. I was definitely in the worst shape of my life. I pretty much gave up all activity to raise my family and I really needed a lifestyle change. I was talking with my coworkers and Kristin Matheny mentioned going to Capital City CrossFit with her one day. I kinda giggled and I messaged Brian that I would see him the next day!!
I've always been competitive and knew I would succeed eventually, but I had no idea how much C3 would change so many aspects of my life.
My biggest struggle is still my diet; I love me some alcohol and cheese fries, but overall, I'm much healthier and happier!
5. Name one goal and/or personal record you would like to accomplish through CrossFit.
My 2017 goals are to become better at pistols, double unders, and repetitive pull-ups and toes to bar (mainly with each WOD).
My ultimate goal is for my children to see how important working out is and needs to become part of one's daily lifestyle. The positive impact working out has on you physically and mentally.
6. Favorite CrossFit moment so far?
I competed in the 2016 Turkey Bash at XLT last month. Jen Creasey was my partner and I'm so proud of us. This was my first competition and I now believe I'm much more capable to compete and do more RX workouts in the gym.
7. What is your least favorite WOD to date?
I wouldn't say any specific WOD, they all seem to push me to my limits, but push-ups and burpees are the death of me.
8. What do you like most about Capital City CrossFit?
C3 is my extended family! I have met so many great people, people that lead me to do better each day. I love how we all have different strengths and weaknesses.
I like to do my WOD's next to people that will push me to do better and definitely have a positive attitude.
9. Favorite movement?
10. Least favorite movement?
"I would like to thank Brian for this opportunity to be December Athlete of the month. I'm very proud and honored! Also, thank you to every C3 athlete! I love to be a part of your workout team!" – Jennie