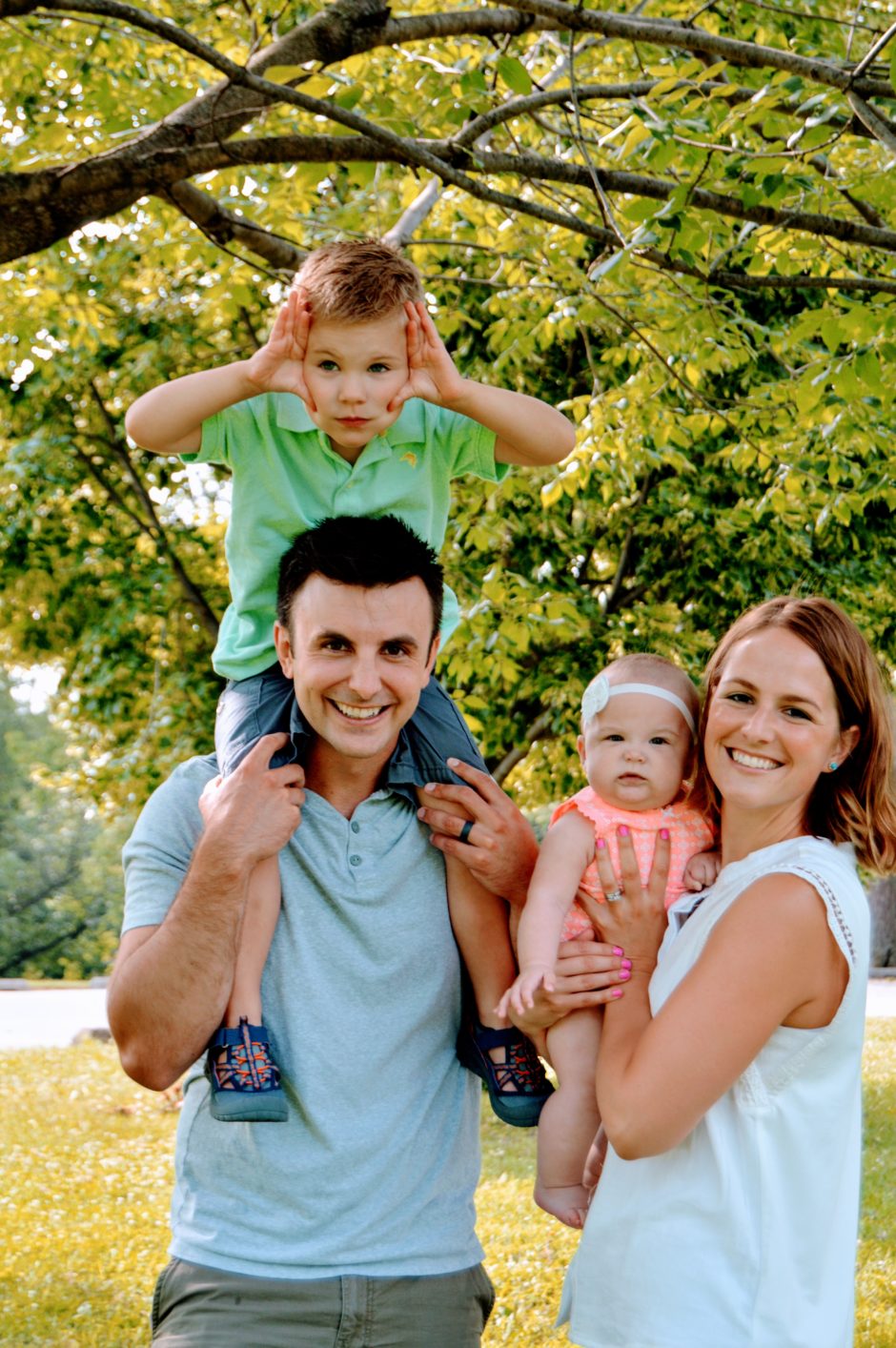 Congratulations to Jenna Pelc, our August 2018 Athlete of the Month! Jenna has been at C3 since January of '17. In that time, she has been a motived athlete and an exemplary member of the C3 Community. Despite experiencing a wrist injury, Jenna never wavered in her consistency, not even during her pregnancy. Day in and day out Jenna continues to show up and put in the work to become a better all-around athlete. She continues to get stronger in all of her lifts while also adding to her gymnastics repertoire, recently getting her first unassisted pull-up, toe-2-bar, and handstand push-up! Jenna also competing in her first CrossFit competition just last month at the Summer Knights Showdown. Perhaps most importantly, Jenna and her husband, Cory, provide a great example for their two young children, teaching them the importance of an active, healthy lifestyle.
---
1. In general, what is your background?
I am from Tremont, IL and moved here in 2008 to attend nursing school. I married Cory in 2010 and we live in Sherman with our two children, Cutler 4 and Wylsen 7 months. I grew up playing volleyball and basketball, and even dabbled in cross country and track for a few years.
2.Age, Occupation?
I am 30 years old and work as a nurse practitioner at Springfield Clinic in the neurology department. Before that I worked at St. John's Hospital as an RN in the Intensive Care Unit.
3. How did you get to know about CrossFit and why did you start?
I started in January 2017 as part of a six week challenge for women. I had been wanting to do CrossFit for awhile, and when I saw the ad on Facebook I knew this was the perfect opportunity for me to step out of my comfort zone and try it! I have always been fairly active and fit, but was bored with the usual stuff….running, DVD home workouts….I needed something different. I have been coming to C3 consistently ever since, even though I had to really modify workouts when I broke my wrist last summer and then of course while I was pregnant.
4. How has CrossFit changed your life, lifestyle, level of fitness?
I love CrossFit. It has definitely become a big part of my life, even my family's life since I "forced" Cory to become a member too. I am the strongest I have ever been, both physically and mentally. Completing a really tough WOD certainly has a way of boosting your self-confidence.
5. Name one goal and/or personal record you would like to accomplish through CrossFit.
I'd like to improve my toes-2-bar and pull-ups by stringing them together more and not just doing singles. I've recently started doing handstand push-ups so I want to get better at those too. Long term…I'd love to do a muscle up!
6. Favorite CrossFit moment so far?
Probably open workout 18.3 when I finally got my first unassisted pull-up! And competing at the Knight's Summer Showdown Competition a few weeks ago. I had so much fun and realized how much I missed competitive sports!
7. What is your least favorite WOD to date?
None! Even if it feels like I'm going to die, I still enjoy them all! At least when it's over.
8. What do you like most about Capital City CrossFit?
This is the easiest question to answer. The people. C3 is is full of amazing people and I love being in such a supportive atmosphere. I've accomplished so much just by others encouraging me and pushing me to be better. I also love watching other people improve and acheive new things.
I am starting to really enjoy double unders. Probably box jumps and power cleans too.
10. Least favorite exercise?
Single arm dumbbell overhead squats. And squat snatches, both dumbbell and barbell
---